Get Started 101 & Templates
Getting Started 101
& Existing Template Use
AgWare ClickForms is the report-writing component of the 2-program AgWare software package. With ClickForms, the user has the flexibility to create an appraisal with as many forms or pages and as much narrative content as desired as:
Mostly form

Mostly narrative, or

Mixed form and narrative.
Other features include, but not limited to:
Import image files and PDFs

Create exhibits

Edit images and exhibits

Email ClickForms reports to other AgWare users and PDFs to non-users

Customized window layout & preferences

USPAP compliance
There are default report templates available from File/New From Template, then "Save As" to save your base template for future use. AgWare has added five new Templates based on the ER Procedure --- plus the completed August 2020 Case Study (UAAR Sample) to show the intent and contemplated use of the forms. AgWare will use this 2020 Case Study for all examples, on-line, or classroom seminars.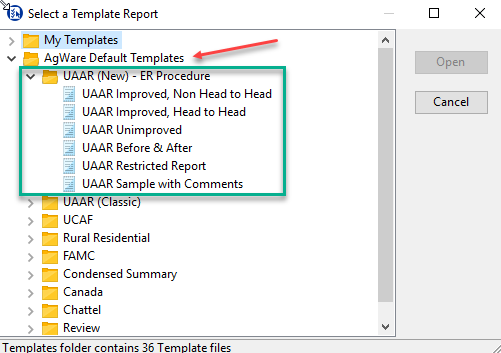 Some explanation is necessitated due to the names assigned.
1. The first is UAAR Improved, Non Head to Head: This template is for improved properties where the buildings are only appraised once. This is the newest option because the next template (Head to Head) uses the same procedure as used in years past, i.e., each sale provides a different value approximation for the subject's structures. Because improved sales with the "same improvement bundle" are rare within the subject's competitive market area. For example, the subject has a house, garage, shop/machine shed, round bins, and flat bins --- or five structure groups. It is rare to find sales with the exact same mix, age, and condition. As the sales with similar buildings declines, AgWare now displays the contribution for each improvement group and allowing the appraiser to select the strongest comparison from within that group for the subject's single improvement. Then the second improvement ground and their contribution becomes the basis for the second building and so on. Red arrow shows contribution $/sf for subject's house --- a value selected from the four sales with houses.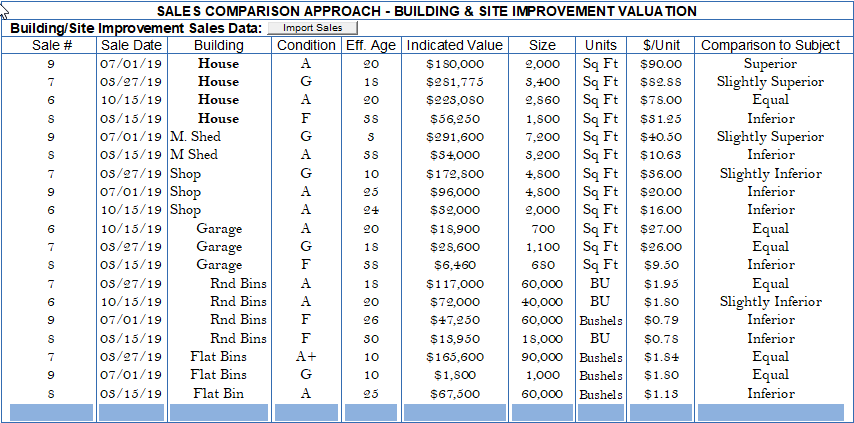 2. The UAAR Improved Head to Head is the traditional procedure taught by ASFMRA for nearly 40 years. The new improvement adjustment grid is shown below: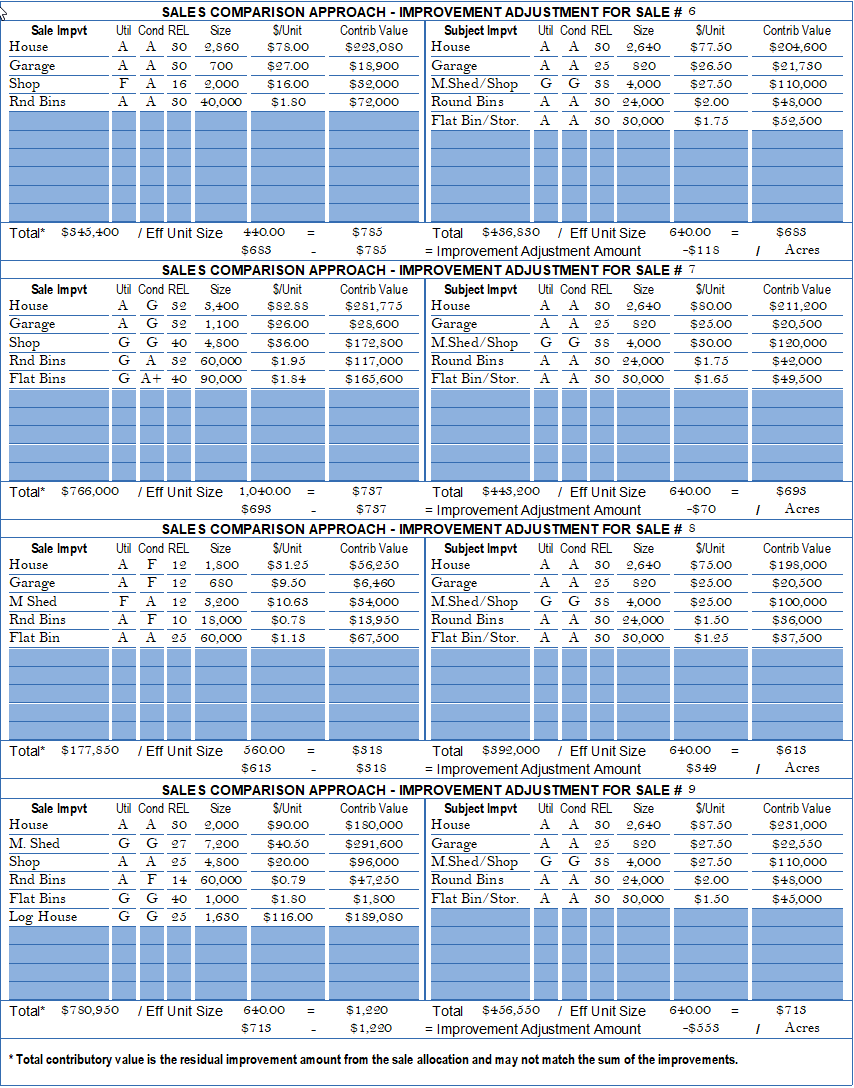 3. UAAR Unimproved: A relatively simple template for unimproved subject properties.
4. Before v. After: This template is structured to provide two value opinions within the same report for situations like before v. after (condemnation), "as is" versus "as proposed", contaminated tract, current v. retrospective, etc. Within the dual Report Summary and dual Reconciliation, the "pull down lists can show your options.
5. UAAR Restricted Report: This template is only a suggestion, i.e., the user can define what they want to provide to their Client in accordance with the Scope of Work and property complexity. That template is only seven pages with the remaining pages that normally would be completed for an assignment shown in the APPRAISER'S WORKFILE.
6. Completed 2020 Case Study showing all the new ER pages.
The original or Classic Templates remain options:
UAAR Template location with contents right

UAAR + Residential Template

UCRR (no excess land) – Uniform Country Rural Residential

UCRR Template

UAAR FAMC (Farmer Mac)

UCAF Template (Uniform California Appraisal Form) – FCS

UCAF Template (18 Sales Max)

Canada Form (FCS)

Chattel Template

FCBT Template (Restricted Tax & Sales Range)

Appraisal Review Template
Users can also customize their own template. AgWare recommends this can be crafted by Area, Region, and Zone. Or by property type with template loaded with current sales, jurisdictional definitions, highest and best use accompanied by the "buyer profile", methods of value, etc.
Users may want to consider placing XXX for property name, YYY for client's name/identification, ZZZ for acreage, etc. Select your template, perform a "Save As", then use the "find/replace" function to replace XXX with the subject's name appraised, the "find/replace" YYY for client's name, etc. That procedure saves "hard reading" when you clone an appraisal and forget to change a name, client, acreage, etc.
Additional "HELP" sections are available on the website (uaar.net), or click on the "?" icon in the "yellow header bar" at the top of each page in ClickForms (shown below):